Course details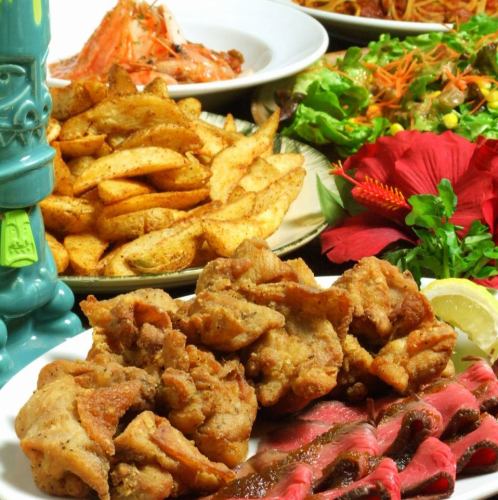 【Social Students · Students】 Roast Beef & Salad & Chicken & Potato All-you-can-eat 2h dish 6 items with unlimited drinks
6items

2

-

100persons

All-you-can-drink available

2H All you can drink (Super dry, cocktail, sour, fruit wine, shochu, whiskey etc.)
There were few dishes on the course ... I do not need to worry anymore.Please replace homemade roast beef as much as you want!
Course menu
【Social Students / Students】
2h 3500 yen 3h 4000 yen
«Course contents all 6 items»
◆ Daily salad
◆ Potato
◆ Chicken
◆ Roast Beef
◆ December 1 item
◆ Dessert
* All you can eat salad, potato, chicken and roast beef
* When you substitute, you can also adjust the amount.
【Course Free Benefits】
·projector
·Microphone
· Welfare room (negotiable)
· Acceptance except business hours OK
· Free of charge for exhibitors
· Premium advance reservation OK
All-you-can-drink menu
·beer
· Asahi Super Dry, freezing beer "Extra Cold" "Drive Rack Cold" "Half & Half" as well as all you can drink!
·Cocktail
· Shandigafu / Gin tonic / Vodka tonic / Moscommeureur / Cassis orange / cassis oolong / fuzzy bis / banana milk, / strawberry milk / cassis yoghurt etc.
·sour
· Lemon / lime / grapefruit / orange
· Fruit wine · Shochu
· Anzu / Plum wine / Ringo liquor / Giantpa sake / Shochu (potato / wheat / oolong hi / green tea high)
·whisky
· Whiskey (rock, water split, soda, coke, ginger)
·wine
·Red and white
·Soft drink
· Orange juice, grapefruit juice, ginger ale, cola, green tea, oolong tea
Available days for reservation

Monday - Sunday - Public holidays - Holidays
2018/12/08 update